Make sure you download them all
Wizard Magic Balls
There are 7 different balls and each of them has unique powers.
Freezing Ball (Fishing Rod): Freezes the enemy for a couple of seconds.
Explosive Ball (Eye of Ender): Causes a huge explosion and lots of fire.
Health Ball (Snowball): Heals the target(s) instantly. Works on both mobs and players. Lingers on the ground for several seconds.
Levitation Ball (Bottle o' Enchanting): Causes the mob or players to start levitating.
Poisonous Ball (Ender Pearl): A linger potion effect which lingers for several seconds. Can cause damage to multiple mobs at the same time.
TNT Ball (Bow): Spawns a primed TNT block.
Lightning Ball (Egg): Summons lightning bolts.
Let's have a look at some of the magic wizard balls. In the first image you can see what happened right after I threw an Explosive Ball.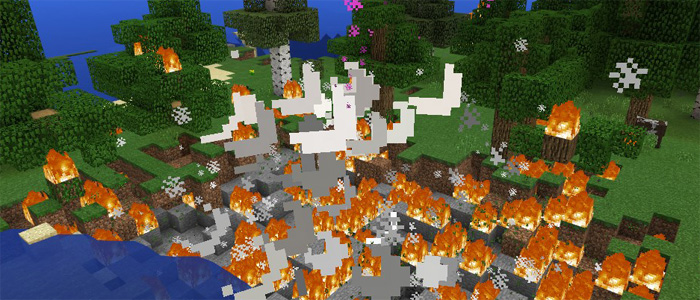 The Health Ball is really useful in case you need to heal a large group of players (or mobs) at the same time. You can return to it later too as it lingers for a long time.

The Levitation Ball can be used as a weapon to quickly subdue a monster or a player. It can also be used on yourself if you need to get past some type of obstacles.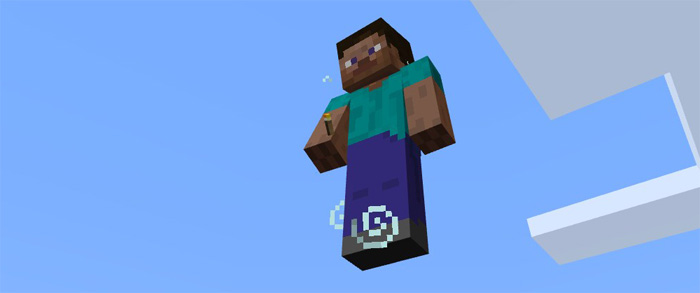 The Poisonous Ball causes a lingering potion effect which lasts for several seconds. Any mob or player which steps into the green ring will be poisoned.

The Lightning Ball can be used for summoning a lightning bolt. It inflicts some damage as well as sets the ground, mob or player on fire.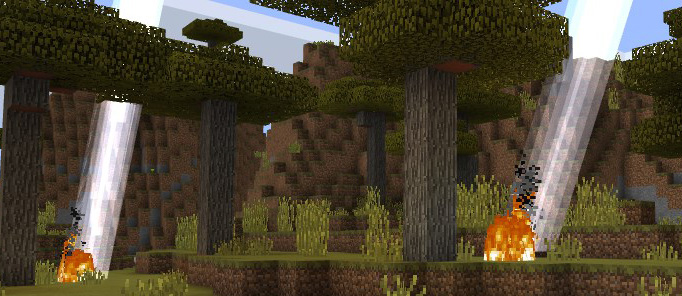 Installation
Activate the packs for a world in-game
You can get a

.ZIP

file for this addon here.
Bandits Addon
There are five types of bandits and each one work a little bit different.
Gun Bandit (left) (replaces skeletons): Neutral toward all kinds of mobs and players. It will only start shooting once it's attacked.
Fireball Bandit (middle) (replaces strays): Hostile toward villagers and players. Shoots fireballs.
Punk Bandit (right) (replaces wither skeletons): Hostile to players and friendly to villagers. Wields a stone sword. Inflicts slowness effect.
Terminator Husk (replaces husks): Shoots shulker bullets (will only work on version 1.0)
Zombie Suited Criminal (replaces zombies): Fast, inflicts weakness, 10 attack damage, frozen unless mobs attack them, hostile, equipped with a diamond sword, 1% to steal player's diamond sword
None of the bandits spawn naturally in and around villages as one would imagine. To find one you will need to go where they originally spawn or use the spawn eggs.
---
---
Girlfriends Addon
Girls can be found spawning in villages (as they replace villagers). Once you've found someone you like then it's time to ask her to marry you. Get a diamond ring (it's just a normal diamond) and offer it to her. If she accepts the proposal you will see some red hearts particles appearing on the screen.
iOS / Android: Long press on the mob while holding a diamond and press Tame
Windows 10: Hold a diamond in your hand and right-click the mob
Once you are married there is no way to get away from your wife. She will always be following you around and since she got an infinite amount of health she will never die.
So the whole thing about married until death do us part doesn't really work here. The only way to stop the relationship is by signing a divorce (giving her an emerald).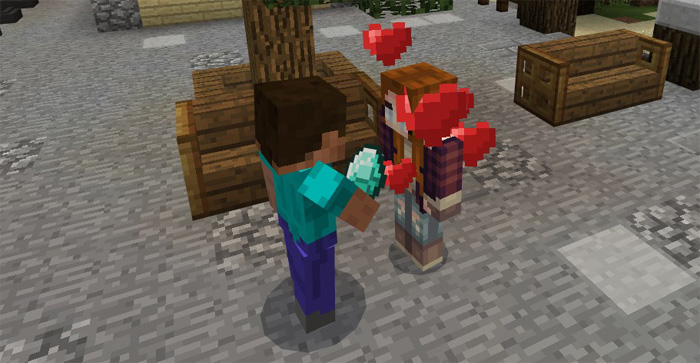 If you don't want her to follow you then you can ask here to stay.
iOS / Android: Sneak, long press on the mob and press Sit / Stand
Windows 10: Sneak and right-click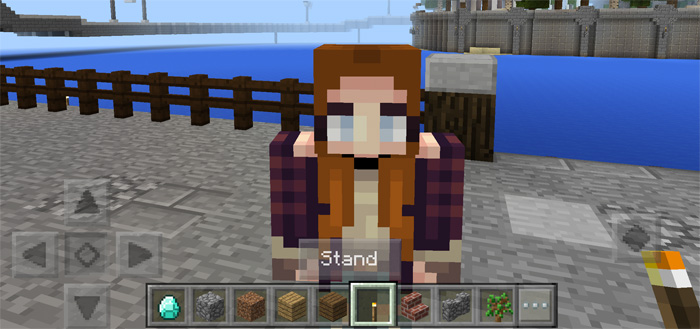 You can sit on your girlfriends shoulders but she won't move an inch. I'm not entirely sure what the use for this is but it's definitely possible!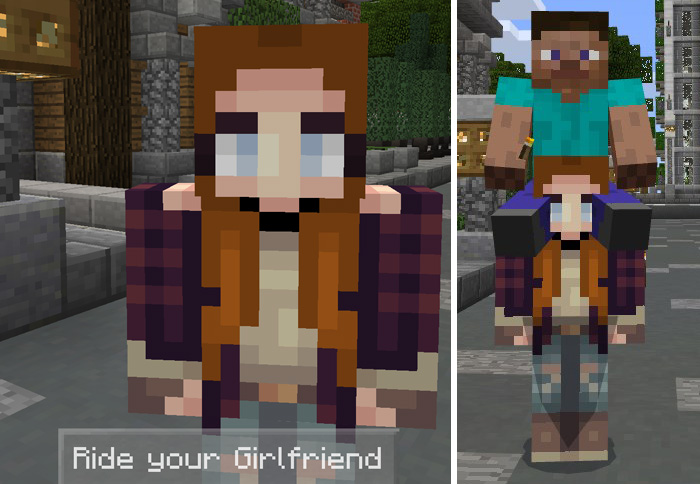 Besides being a great and loving companion she is also quite useful. For example, you can get her to carry some of your stuff for you. (27 slots)
Sit on your girlfriend and use the Open button to open the inventory.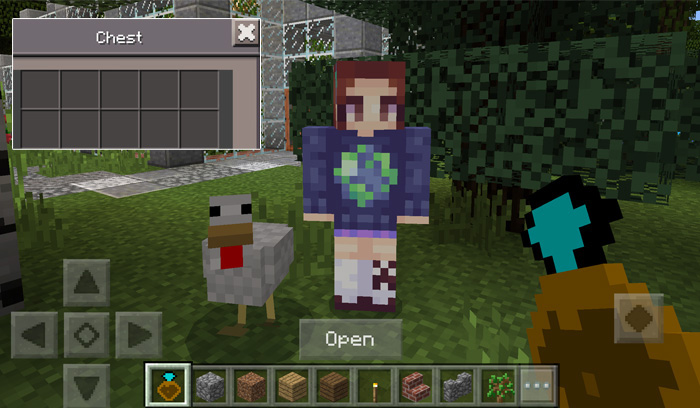 If you want to read your marriage contract then find your wife and give her a book. Back you will get an empty sheet of paper. I guess you could pretend that it says something.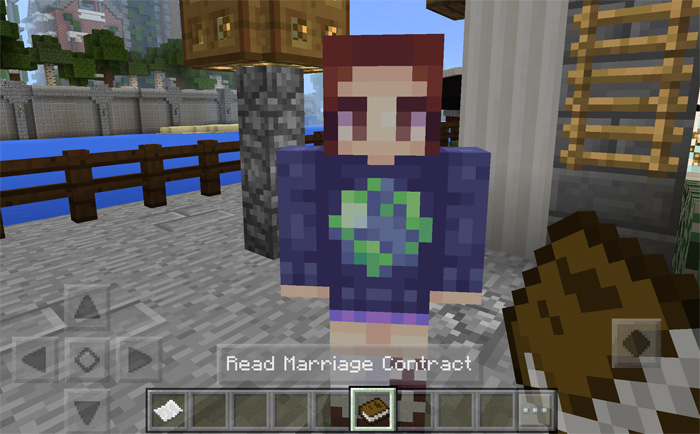 ---
---
Boyfriend Addon
First off you need to find a guy. Guys can be found spawning in villagers (since they replace villagers). There are five different types of guys and each of them have a unique style of clothing. For example, one of them looks like Steve.
Marriage
​To marry him you simply need to give him a diamond ring (diamond). If he accepts your proposal you will see some hearts. Your boyfriend will follow you around but for whatever reason he won't protect you if you are getting attacked. It's a bit lame but hopefully it can be addressed in a future update.
iOS / Android: Hold a diamond and long press on the mob and press Tame
Windows 10: Hold a diamond and right-click on the mob
What can he be used for?
Your boyfriend is quite strong and can carry your items (27 slots). Besides that there's not much else he can do except for being a loyal companion who will always be following you around from here on out.
---
---
MagicalStaffs Addon
What kind of staffs are there?
​
Fire Staff
(Egg): By using this staff you can turn the surrounding environment into hell and cause massive destruction. It will cause both a great explosion and lots of fire.
Staff of Teleportation
(Ender Pearl): Use this item to teleport to a random location. It has a cooldown period of 1 second before it can be used again.
Lightning Staff
(snowball): This staff is the coolest of all staffs! You can summon 50 lightning bolts with this.
Staff of Death
(Fishing Rod): Use this staff to cast a deadly spell on the ground. It will linger for several seconds and cause harm to any mob or player which walks there.
Staff of Levitation
(Bow): This staff can be used to cause other mobs to levitate. Just aim and shoot!
Fire Staff
(Bottle o' Enchanting):
This wand is similar to the fire wand except that it acts on a much lesser scale.
​
TNT Staff
(Fire Charge): This staff can be used to summon tnt faster!
---